Les Paul, Gibson and the Les Paul guitar have always been about innovation. Now, Gibson is bringing the innovation of Robot Guitar tuning technology to the classic Les Paul model with the release of the Les Paul Standard 2010 Limited. With a legacy as one of the most versatile electric guitars available, the new Les Paul knocks versatility right off the charts, courtesy of Gibson USA.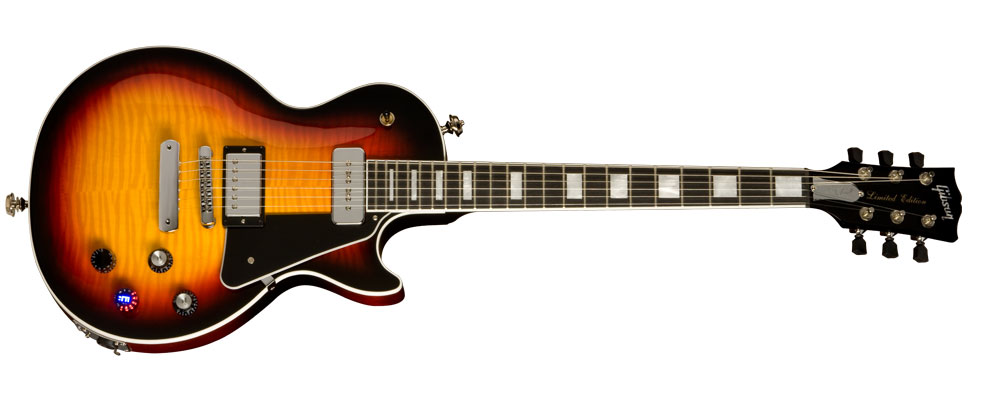 With Robot Guitar automated tuning capabilities, two different but seminal magnetic pickups, a piezo-loaded bridge, and Chameleon Tone Technology courtesy of its Master Control Knob (MCK), the Les Paul Standard 2010 Limited packs a dizzying array of sonic capabilities, all primed to unlock your inner creative potential. From the raw, biting crunch of a hot, chrome-covered, hum-canceling P-90H in the neck position and the sizzling wail and punch of an overwound BurstBucker 3 in the bridge, to the subtle acoustic response of its piezo bridges saddles — and any conceivable blend of the three, accessed instantly from the MCK — the Les Paul Standard 2010 Limited really does pack all the tonal colors of the rainbow. And to keep it all sounding true, Gibson's exclusive Robot Technology puts you perfectly into tune in seconds at the push of a button, or shifts you into any of a countless number of open and alternate tunings, all accessed at your command.
The Les Paul Standard 2010 Limited
Technology aside, it's a top-flight Les Paul in the traditional sense, too, yet with a plethora of custom upgrades befitting its Limited status. Constructed with a Grade-AA flamed maple top, Grade-A chambered mahogany back, and one-piece mahogany neck, the Les Paul Standard 2010 Limited offers classic Les Paul tonewoods, combined with a look that's exclusive to this run of only 400 guitars.

A unique new Fireball finish with dark 'burst edges graces its top, while its back, neck and sides are dressed in a deep Vintage Sunburst with a dark cherry center and dark edges. Like several of Gibson USA's models of years past, the Les Paul Standard 2010 Limited's fast, slim '60s profiled neck carries a dark Grade-A ebony fingerboard with block inlays, while its headstock wears a chrome truss rod cover and a Les Paul designation. Quite simply, there has never been a Les Paul like it — and once they are gone, there never will be again.

All Les Paul Standard 2010 Limited's include an owner's manual, two batteries and an independent charger, and come protected in a Limited Edition plush-lined, white, hardshell case with plated emblem.
Body and Finish
Crafted along the classic lines of the Les Paul Standard, the Les Paul Standard 2010 Limited has a Grade-AA maple top and chambered Grade-A mahogany back — a legendary partnership in tonewoods — with Gibson's exclusive Fireball finish on the top and Cherry Vintage Sunburst on the back, neck and sides, all in nitrocellulose lacquer.
Pickups and Electronics
The Les Paul Standard 2010 Limited's straightforward looks belie a virtually unlimited tonal palette, accessed via its MCK from a P90H neck pickup, and BurstBucker 3 bridge pickup, and a piezo-saddle bridge.

Routed independently or in myriad combinations, these pickups yield unparalleled sonic versatility, while the user-friendly control array ensures you can access them mid-flight without a single hitch in your performance, even blending in piezo acoustic tones as desired via the rotary potentiometer built into the guitar's toggle pickup selector switch.
Neck and Headstock
The Les Paul Standard 2010 Limited's neck is constructed from one solid piece of mahogany, cut using the superior quarter-sawn orientation for improved strength and resonance, and glued to the body at the Les Paul's traditional 5° angle (pitch).

A traditional headstock wears the classic Gibson logo, along with the six Robot Tuners™ that comprise the muscle of its Robot tuning capabilities.
Hardware
The Les Paul Standard 2010 Limited's hardware includes an upgraded set of components designed for maximum tone and function. Although it looks like the traditional Tune-o-matic model introduced in 1954, its bridge carries individual piezo-pickup-loaded saddles, and is partnered with a new tailpiece engineered for maximum string-to-body coupling.

Topping it all off, six Robot Tuners™ provide the muscle for its Robot automated tuning capabilities. Finally, a pair of locking strap buttons ensure the whole thing stays secure.